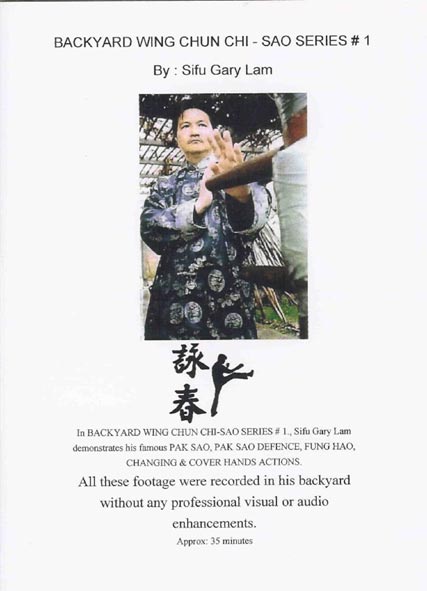 * Please note this footage was taken MORE than a DECADE ago ( 2001 ) at Sifu Lam's backyard with a simple handheld camcorder. Most customers buy this DVD for the 'content ', NOT the video quality !.  What you will NOT get in this DVD is crystal clear High-Definition type of video/audio quality, however, you'll get to see Sifu Lam teaching his first-generation TOP students "live"!  Please preview at youtube to see the type of video/audio quality and the content before proceeding*
In

 

BACKYARD CHI SAO SERIES # 1, Sifu Gary Lam demonstrates his famous PAK SAO, PAK SAO DEFENSE, FUNG HAO, CHANGING & COVER HANDS ACTIONS.
The footage was recorded in Sifu Lam's backyard without any professional visual or audio enhancement.
Approx. : 35 minutes
This disc is compatible and will play on > 95 % of DVD players in the USA. However, some DVD player manufacturers may have a different coding system and therefore we cannot guarantee compatibility with ALL DVD players.
PRODUCT RELATED