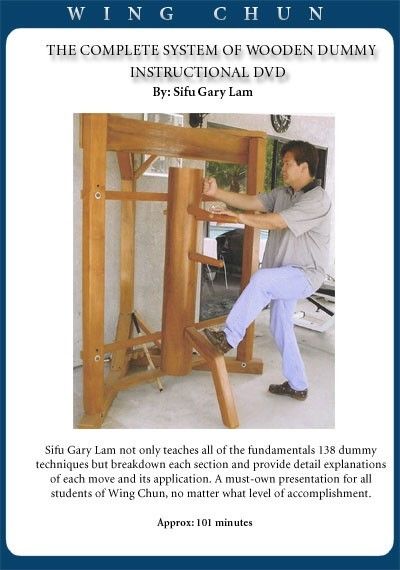 Learn to master the most COMPLETE wooden dummy technique from Sifu Gary Lam- Chief instructor at Wong Shun Leung's school in Hong Kong for 15 years.
The traditional form has 108 movements, but this has been expanded to 138 by Sifu Lam's teacher, Wong Shun Leung, -with Grand Master Yip Man's approval- based on his years of challenge matches ( Beimo ).
Sifu Gary Lam not only teaches all of the fundamental technique in this INSTRUCTIONAL DVD but also breakdown each section to provide a detail explanation of each move and its application.
A must-own presentation for all students of Wing Chun, no matter what your level of accomplishment.
Approx. : 101 minutes 

This disc is compatible and will play on > 95 % of DVD players in the USA. However, some DVD player manufacturers may have a different coding system and therefore we cannot guarantee compatibility with ALL DVD players. 
PRODUCT RELATED