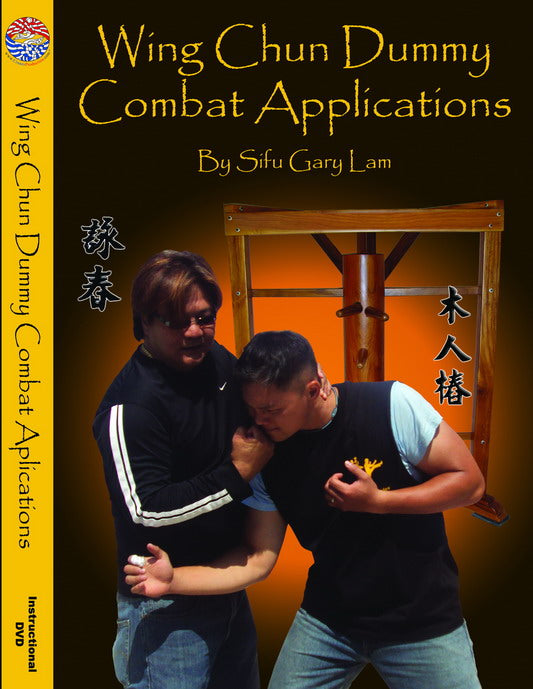 Sifu Gary Lam brings more than forty years of Wing Chun experience to demonstrate every movement of the wooden dummy and how it applies to combat.  Each section of the  Wooden Dummy form is broken down for the viewer and demonstrated in a live fighting situation.  This DVD is an indispensable resource for  the serious Wing Chun practitioner, and with it, you will not only be able to upgrade your fighting skills, but you will attain a deeper 
understanding of the art and science of Wing Chun.
Contents :
~Complete Wooden Dummy Forms By Sifu Gary Lam.
~Empty Wooden Dummy Form: Purposes & Correct Practices Techniques.  
 Performed By Sifu Gary Lam's student: Dmitry Chaplin.
~ Muk Yan Jong Combat Applications :
A. The Foundation ( Basic Dummy Hands)

B. CHANCEs Section.

C. Kicking Section.
Assisted By Sifu Lam's students: Peter Hsu and Jason Chow.
~ Sifu Gary Lam Wing Chun Dummy Form: Multiple Angle
~ In-depth interview with Sifu Gary Lam on Wing Chun Wooden Dummy:  
   History Theory, Proper Form, Shifting, Power, and Application Techniques.
This disc is compatible and will play on > 95 % of DVD players in the USA. However, some DVD player manufacturers may have a different coding system and therefore we cannot guarantee compatibility with ALL DVD players.

---
* 16:9 Wide-Screen High -Definition TRUE DVD ( NOT DVD-R or +R )
* Run Time: 68 Minutes.
PRODUCT RELATED