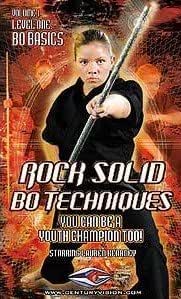 Lauren Kearney is an elite National Champion having appeared on television around the world and in numerous Karate and Martial Arts publications.
She is an ISKA World Champion in Weapons, winner of twelve Grand Champions, Best All Around Girls Black Belt Youth, Youth Overall Girls Weapons and Forms Champion. She is a 2nd degree Kenpo Black Belt and member of the Team Paul Mitchell National Karate Team.
Four volumes to choose from.
Volume 1: Bo Basics Basic stances, strikes, hand positioning, drills, impressive strikes, figure eight, sweep forward strike, sweep upper cut, five strike sequence and much more. Approx. 40 min. #189215D

Volume 2: Bo Basics To Kata Traditional formatted Bo kata. Step by step instruction. Can be used for beginner or intermediate level. Approx. 40 min. #189216D

Volume 3: Bo Forms Skills to compete such as: hand offs, spins, throws and swings. Around the head back, behind the back strike, baseball swings and much more. Approx. 40 min. #189217D

Volume 4: Championship Bo Incorporate the Bo basics, drills, advanced techniques along with creativity to score with the judges. Secret tips and tricks and favorite drills, musical suggestions and judging insights. Approx. 40 min. #189218D

Volume 5: Elite Bo Techniques Reviews previously learned techniques. Learn various strikes and variations, including figure 8 techniques. Also covers throws, swings and advanced moves. Approx 69 minutes. #189338D

Volume 6: Elite Bo Form Explains how to put a bo form together. Covers tricks, releases and repetitions. Approx. 56 minutes. # 189339D
PRODUCT RELATED