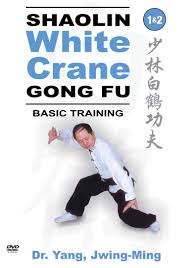 This comprehensive training video explores Shaolin White Crane Kung Fu, one of the most famous martial art styles developed in China.
In Course 1, Dr. Yang presents a lecture explaining the theory and history of Shaolin White Crane Kung Fu (Gongfu), and instructs fundamental stances, movements and hand techniques.
In Course 2, Dr. Yang explains and instructs fundamental Qigong exercises, Jin patterns, more basic movements and hand techniques. White Crane Qigong (Chi Kung) is a proven way to build explosive fighting power, known as Jin. In addition, Dr. Yang and senior students instruct and demonstrate the first barehand form, Qi Xing Quan and its martial applications.
It is commonly recognized that Shaolin White Crane is the root of Okinawan Karate, and has heavily influenced Japanese martial arts. From this video, all martial artists can gain a profound comprehension of empty-handed styles.
Course 1:
Learn the history of Shaolin White Crane Kung Fu from Dr. Yang, Jwing-Ming
Fundamental stances
Fundamental Qi Xing stepping
Four Golden Points hand techniques
Repelling and covering practice
Bridge Hands and its applications
Course 2:
Fundamental hopping and jumping
Major basic hand techniques
Bridge Hands and its applications
Fundamental Qigong
Fundamental Jin patterns
Barehand sequence: Qi Xing Quan and its applications
PRODUCT RELATED